L'Oréal Professionnel is releasing a brand new range that will please more than one!
As we know, L'Oreal never ceases to improve in miracle hair products. And this time, and to launch their latest novelty, they did not miss it.
The Curl Expression range "the expression of your curls, professional version" as the brand says so well.
This new range has been designed especially for curly to frizzy hair. Curl Expression routines for each type of curls: curly hair, curly hair, frizzy hair!
From now on, you will have no more excuses to treat your hair properly and save time morning AND evening.
But then, what are the results of these products? We tell you everything:
2x more hydration*.
11x more definition*.
48h anti-frizz protection 48h
Incredible but true !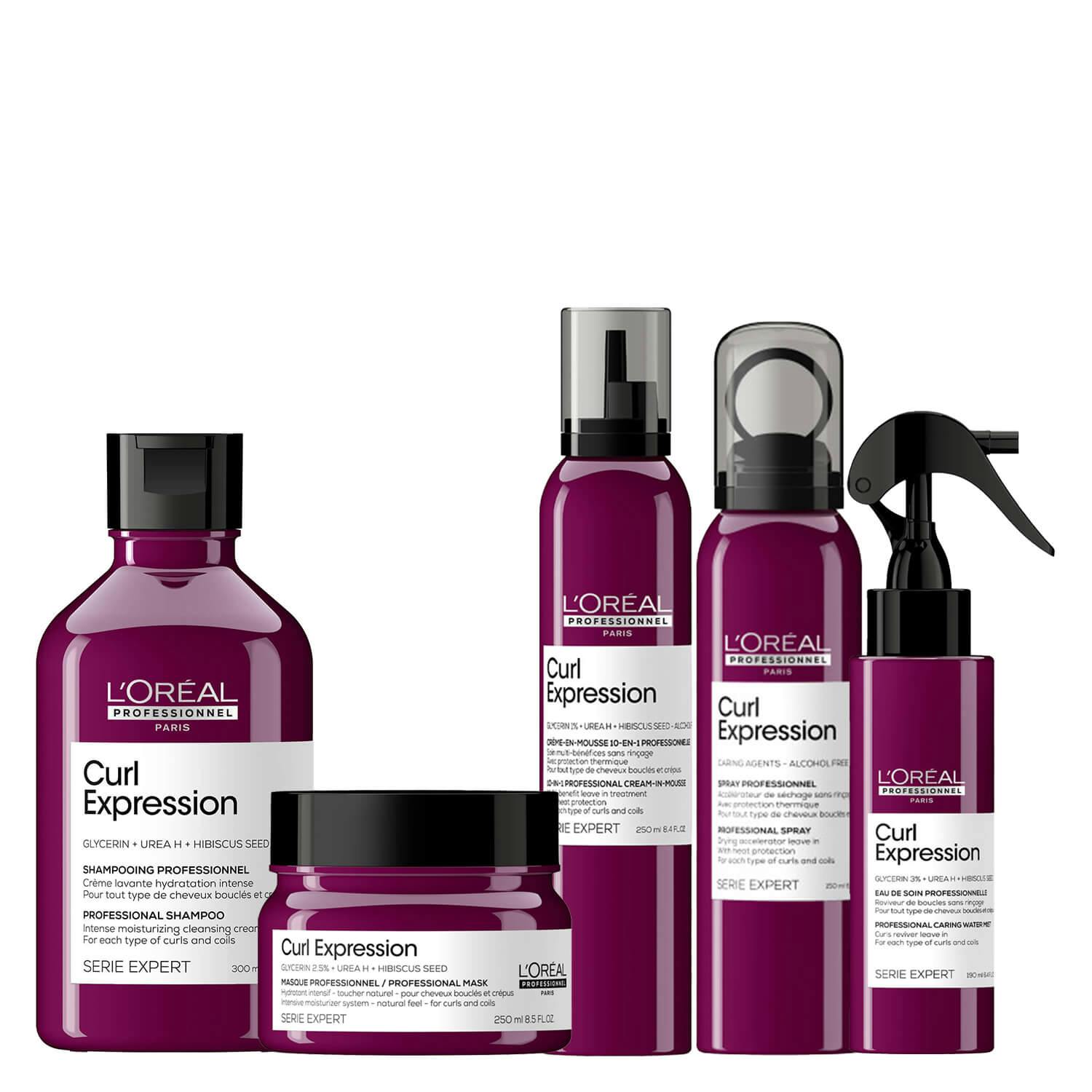 But then, what are the products that are in this new range
"Anti-Residue Cleansing Jelly" shampoo A light-textured formula that foams quickly and gently removes product residue while moisturizing the hair without irritating or drying it out.
"Intense Hydration Cleansing Cream" shampoo An ultra creamy formula that transforms into a rich, creamy foam on contact with water. Gently cleanses curls while providing long-lasting moisture without weighing hair down, for healthy, easy-to-detangle curls.
The "Natural Touch" moisturizing mask A soft and melting formula instantly absorbed by the curls to maintain hydration. It deeply hydrates the curls while providing shine and frizz control, for a feeling of natural flexibility.
The rich mask "Enrobed touch" A formula rich in melting butter that delicately envelops the curls to ensure intense hydration. Instantly hydrates curls while adding shine and preventing frizz, for a feeling of luxury and softness.
The intensive long-lasting, leave-in moisturizerFor intensely hydrated and nourished curls
The 10-in-1 Multi-Benefit Cream-to-MousseAn alcohol-free formula that combines the deep care of a cream with the smoothness of a mousse and a pleasant, airy cream texture that sinks evenly into the hair and gives it a groomed hold.
Leave-in definition activatorFor intensely hydrated and nourished curls.
Leave-in curl enhancerFor intensely hydrated and fortified curls.
Leave-In Drying AcceleratorAn alcohol-free formula with a circular diffuser for ultra-fine, evenly-distributed droplets.
Density stimulatorFor denser hair. Concentrated serum with precision applicator.
What to find your happiness in this range!
Find all Curl Expression products directly on our Bluety website.