Summer has come to an end... The return of dresses, sunglasses and terraces! And suddenly, the embarrassment of seeing his white legs, without any color. And that's when you say to yourself "luckily self-tanning exists" right?
Having golden colors, a tan straight back from vacation without even having left yet, that's what we would all like. That's why at that time, there is the self-tanner. But then, is it really worth it? This is the question we are asking ourselves today.
Having tested several self-tanners of different brands, it is certain that some are better than others. Typically that of the brand we all know: St-Tropez! This pretty blue packaging and this smell that changes from the other self-tanners that we are used to smelling. First of all, you should know that applying a self-tanner is not so simple. Indeed: You have to remember to exfoliate your skin (remove dead skin in order to keep the tanned complexion longer), you have to moisturize the most sensitive parts of the body to mark, that is to say the knees, elbows, hands and feet! It would be a shame to end up with stains on the body, wouldn't it? Especially since it is not at all natural, quite the contrary.
The crucial step will be THE APPLICATION! And yes... We do not spread a self-tanner haphazardly on our body even if we might think so, well no! It is important to apply it first with a special glove! In addition, it is necessary to make circular movements and above all not to apply self-tanner between the hands and the palms (the same for the feet). Indeed, these areas do not tan and if you want to have a 100% natural look, this is the thing not to do!
Who has ever seen someone who did not apply their self-tanner correctly? Nobody ? Mmmh.. if you had seen the result, you wouldn't even want to apply it afterwards, believe us.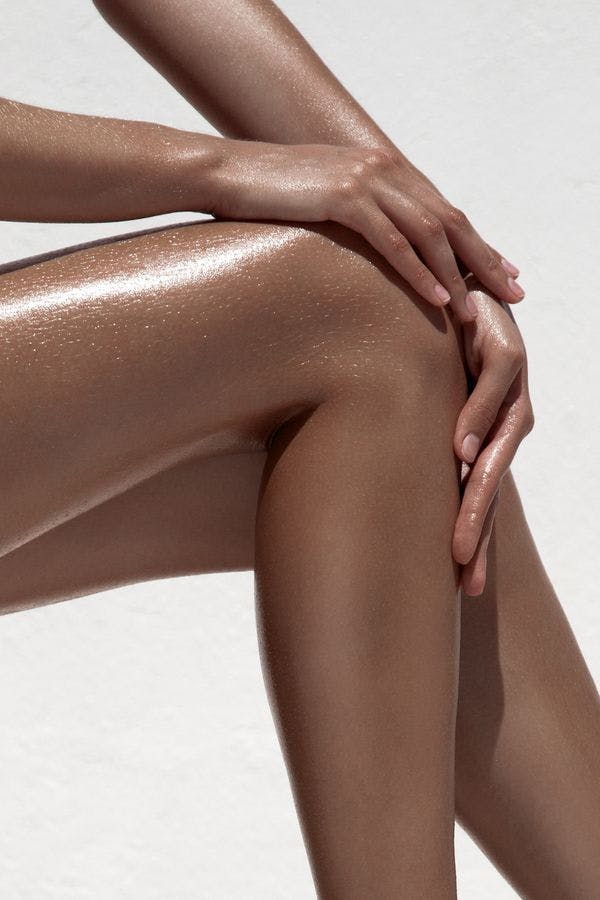 So, is self-tanning TOP or FLOP? From our point of view, if it is well applied and if it is a good self-tanner, it is TOP! However, if the application steps are not followed and the quality is poor, it's FLOP! This is why it is important to select your product carefully before using it because it stains and believe in our experience, a poorly applied self-tanner will be noticed directly! Wouldn't it be a shame not to be able to make those around you believe that you're back from vacation? :)
The advantage of a well-applied self-tanner is that you will have a tanned complexion throughout the summer and even during the winter if you wish! (even if in the end, in winter we notice very little of our skin color...).